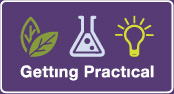 Books
Getting Practical would like to make you aware of new books that reflect current thinking in practical science.
The Language of Measurement
Terminology used in school science investigations
A joint project of the Nuffield Foundation and Association for Science Education

Designed to help teachers become confident about the special terminology associated with practical investigations, when it should be used, and what specific terms mean.

The aim of this booklet is to enable teachers, publishers, awarding bodies and others to achieve a common understanding of important terms that arise from practical work in secondary science, consistent with the terminology used by professional scientists.


The booklet is in three parts:
- an introduction giving a rationale for the approach taken
- a glossary of key terms
- investigations illustrating the use of the terms in context (examples from school biology, chemistry and physics)

The Language of Measurement is also applicable to evaluating aspects of scientific claims made in the public domain.


ISBN: 978 0 86357 424 5

To purchase this book, click here.

To view excerpts of this book including the Introduction, part of the Glossary and two Illustrative Investigations, click here.

Analysing Practical Science Activities
- to Assess and Improve their Effectiveness
Robin Millar

This booklet provides teachers with the tools to analyse practical activities to clarify the objectives, highlight the main features, and evaluate effectiveness.


This booklet presents a method for analysing practical activities to provide a clear description of their principal features. This analysis provides a basis for considering the effectiveness of a practical activity, and for thinking about how it might be modified to improve it.


The booklet contains:
- a discussion of the effectiveness of practical teaching
- ways to analyse practical activities
- checklists for analysing and evaluating a single practical activity, and for analysing and comparing up to ten practical activities


ISBN: ISBN 978 0 86357 425 2

To purchase this book, click here.

To view excerpts of this book including the Introduction and the section 'Analysing Practical Activities', click here.

Good Practice in Science Teaching - What Research Has to Say

Second Edition Edited by Jonathan Osborne and Justin Dillon

This new edition of Good Practice in Science Teaching offers a comprehensive overview of the major areas of research and scholarship in science education.

Each chapter summarizes the research work and evidence in the field, and discusses its significance, reliability and implications for the practice of science teaching.

Thoroughly revised throughout, the new edition includes:

- Three new chapters covering: the learning of science in informal contexts; teacher professional development; and technology-mediated learning

- Updates to every chapter, reflecting the changes and developments in science education; and,

- Further reading sections at the end of each chapter.

Each chapter has been written by at least one expert who is internationally renowned for the significant contributions made by their research. Each topic is approached in a straight-forward manner and is written in a concise and readable style.

This invaluable guide is ideal for science teachers of children of all ages, and others who work in teaching and related fields. It is an essential text for teachers in training and those studying for higher degrees.

Jonathan Osborne is the Shriram Family Professor of Science Education at Stanford University, USA. He started his career teaching physics in London schools before joining King's College London, UK in 1985 where he worked until 2008 before moving to Stanford.

Justin Dillon is Professor of Science and Environmental Education and Head of the Science and Technology Education Group at King's College London, UK. He started his career teaching science in London schools before joining King's College London, UK in 1989. He is President of the European Science Education Research Association and an editor of the International Journal of Science Education.

To purchase this book, click here.

Biology: Ideas and Experiments
Science Notes from School Science Review
Editors: Helen Darlington and J Wendy Bell

School biology is not just about content, it is also about practical skills and scientific enquiry.


This collection of 'Biology Notes' and 'Science Notes' from past issues of ASE's journal School Science Review will provide ideas on how to develop practice towards a more interactive and investigative classroom.


The aims of this exciting new resource are to:
- bring together pertinent teaching activities that may have been lost from the classroom
- showcase activities that are all relatively easy to set up and require few additional resources
- sow the seeds of inspiration for teachers to develop and adapt activities for their own teaching styles


Highly illustrated with a range of activities, ideas for games and tasks designed to help students gain a deeper understanding of a topic by actively engaging with it through practical work, discussion, synthesis and application of knowledge.


The activities will motivate and enthuse students to leave the classroom still asking questions and seeking answers, and to move them along the path to becoming more independent learners.


ISBN: 978 0 86357 419 1

To purchase this book, click here.