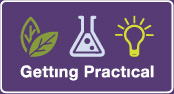 Effective Practical Science Seminar
06/01/10
Summary report by Prof. Justin Dillon available here.
Despite the snow and difficult weather conditions, at least 90 delegates made it to the ASE Annual Conference International Day. During the afternoon, the programme featured the 'Effective Practical Science' Seminar presented by the International Committee of ASE and the Getting Practical team. The event was sponsored by SCORE.
Three speakers gave us their views on practical science around the world with input from experts working in Europe, South Korea and in the UK.
Mikkel Bohm from the organisation Danish Science Communication spoke about three projects he has been involved in across Europe. He discussed how in Denmark, young people are being used in science communication roles to help them to understand topics more thoroughly and to promote science as an exciting and universal subject to the general public. The second project he spoke of involved school groups taking part in mass experiments across Scandinavia which produced some controversial results. Finally he introduced the audience to the organisation EUSCEA and its efforts to improve dialogue across Europe in science education through the 'Two Ways' project.
Gren Ireson and Mikkel Bohm comparing practical activities
Gren Ireson, Professor of Science Education at Nottingham Trent University spoke of his experiences in 2008 and 2009 of running practical science workshops or 'Science Camps' in South Korea. There are many changes taking place in the way that government in South Korea view science education and now there is a greater emphasis on adding creativity to science and making practical work a higher priority in the classroom. Gren demonstrated some of the simple activities and experiments that he and his team took to South Korea.
Professor Robin Millar from the University of York talked about his research into practical science and discussed his 'minds on as well as hands on' philosophy. He outlined the key tools that underpin the Getting Practical programme and aid teachers in analysing the use of practical activities systematically to make its use in the classroom more effective.
Robin Millar
The seminar was chaired by Professor Justin Dillon from King's College, London.
Delegates then discussed in groups some of the following questions:
How do attitudes to practical science vary across Europe?
How do young people view practical work?
What challenges arise in cultures that do not traditionally embrace practical science?
How can we support these cultures in providing for and teaching practical science?
How can we as an international science education community support teachers in enabling more effective practical science?
A summary of the key comments fedback to the chair has been collated and is available here.
Comments following the session demonstrated how valuable people had found the seminar to be. Here is a small selection of the comments:
"A wonderful opportunity to collaborate with colleagues from different places and backgrounds."
"This presentation made me think about my approach to my practicals and evaluate my practical teaching tactics."
"Varied, interesting and conversational. A good chance to talk to people from other countries."
"It confirmed what is happening in my own country."
"It's appropriate and very interesting to see how problems are the same and how we are confronting the same issues with science / technology teaching. We are just one big country that wants to promote science and make it interesting to students of all ages."
I'd like to thank all those involved in making the seminar a success including the speakers, chair, SCORE, the ASE International Committee and all those who took notes.
Dr Georgina Westbrook
Getting Practical - Improving Practical Work in Science Programme